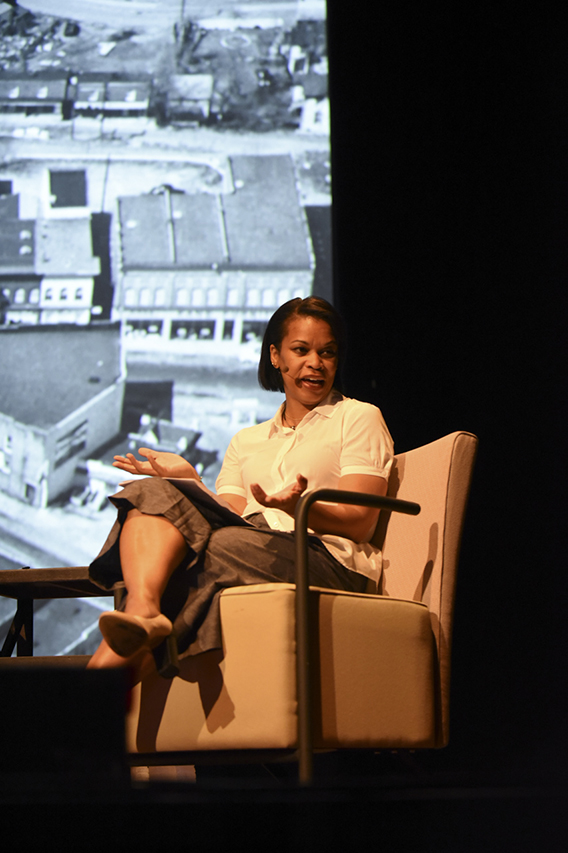 Don't Forget to Remember: Andrea Douglas, Monica Haller, and David Alan Harvey
Written by Joe Santa
Photographs by Tiffany L. Clark
If you've already forgotten what this morning's talk with Andrea Douglas, Monica Haller and David Alan Harvey was all about, then perhaps you should have taken a picture to remind you.
Because isn't that what photography is all about? Isn't that at least what the medium was intended to do—to remind us of who, what, when, where, why and how? Basic journalism connected today's artists. Each project was distinctly different, yet each one sought to preserve a future by looking into the past.
With Andrea Douglas, it was about revealing and holding onto a critical moment in the history of Charlottesville during a time in the late 19th century when African Americans had just been granted their freedom from slavery, and sought the right to educate themselves. Through her discovery of photographs from various yearbooks and libraries far from the local downtown area, Andrea managed to reinsert the faces and stories of those who attended Jefferson—Charlottesville's only African American school from 1865 to 1951—back into the conversation and history of American education, in general.
In Monica Haller's case, it was about preserving and elevating the memories of soldiers from the U.S. led wars in Iraq and Afghanistan from the early 90s. By creating a forum and a method for veterans to archive and re-articulate what they saw and experienced in book form, she's helping everyone else to learn, remember, or to not forget the contrast of humanity with war.
Last, but not least, there's David Alan Harvey, whose mission was to preserve all of the joy and energy that he discovered after being freed from the confinement of polio at the age of six. At 11 he had saved enough money from his newspaper route to purchase a Leica IIIF. By 14 he had decided that he was a professional photographer. From his early beginnings as the self-appointed Lead Photographer and Editor-in-Chief of the "Harvey Herald" family newspaper, to the Nat Geo, Magnum and Freelance Photographer that we know today, David never took for granted the life that was given to him. When he was 20 he lived with and documented the lives of an African American family from Norfolk, Virginia. David's intent had always been to print the story, and give back to the local community. He accomplished the first part in 1967 through the self-published "Tell It Like It Is", but never truly had a way to realize the second until much later on in life when he had the notoriety and means to do so. 50 years later, David Alan Harvey sat on the stage with Lois Liggins, who remembered the photographer "standing on the window to take a picture of us while we were washing our hands and brushing our teeth. He was a member of the family. He slept on the couch. He just fit in."
Photography was never really meant to live in the cloud; distant memories are cloudy enough. Pictures were meant to preserve… to reveal… to hold on… to elevate… and to inspire.
Remember that the next time you take a selfie.